MyCSResource.net Articles
Recipes Asparagus everything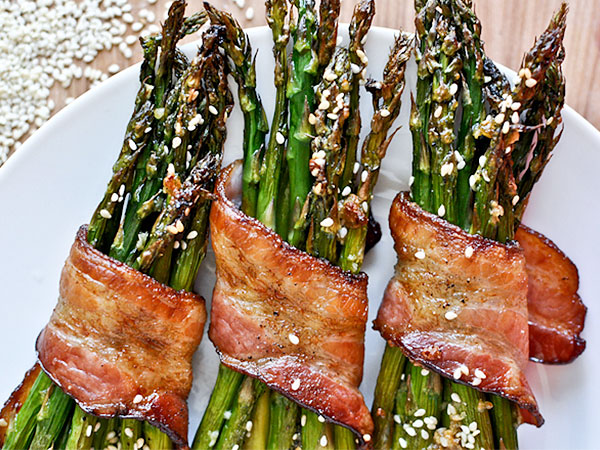 Asparagus is Spring's treat to us all. I can't possibly tell you all the ways I have eaten or prepared asparagus in my life, but, I can give you a few ideas! Everyone has their own particular favorite way to cook asparagus and I hope that maybe a few of these recipes/techniques will inspire you to try some new flavor combinations, and let you be a touch more adventurous with the veggie than just boiling it and serving it with Hollandaise.
There are a few things to remember about asparagus when preparing these recipes.
Number one: The most important thing to do is buy your asparagus locally and when in season! Never buy that year round garbage that they try to pass off at the large supermarkets.
Number two: I always use the thin stuff! They are much more tender and don't require peeling.
Number three: Never serve the tough fibrous ends of asparagus, although never throw them out, you can freeze them and use them to help you make soups. You can pretty much be assured of the fact that all of the veggies in a bunch come from the same area, are the same age, and therefore are going to be tender at close to the same place. To test for tenderness; take a butter-knife, and gently try to cut (without a sawing motion) the bottom of the spear of one or two pieces. When you can easily chop through the spear…you have found the sweet spot. Now cut all of the other spears at roughly the same place and you should have a pretty decent bunch of asparagus to prepare.
Number four: I'm not huge on proper measurements and things like that. So, use your best judgment and taste things frequently to season and flavor them to your and your guests likings.
OK. Let's cook
First: Roasted Asparagus
This is the easiest of all of the recipes, and also one I am sure most of you have not tried. Grab a baking sheet (preferably one with sides) and preheat the oven to a nice and toasty 450 degrees. Take a few bunches of asparagus and throw them into a large mixing bowl. Pour a generous amount of roasted garlic oil over them, sprinkle with sea salt (always sea salt) and fresh ground pepper. Toss until coated and lay the asparagus out in a single layer on the baking sheet. Place it in the oven and let it roast for about 2-3 minutes, turn all of the asparagus, and cook for another 2 minutes. Test a few of the spears for tenderness, they should be nice and flexible but still with a little bit of rigidity…just a little. They should be nice and bright green and slightly wilted. Now go ahead and taste a few! I dare you to stop eating the spears after they are cooked! Serve these with anything
Second: Grilled Asparagus
This is the way to go when it's nice and hot outside. It's an easy and very versatile way to start a whole bunch of different preparations.
Turn the grill on! I can't stress this enough…just kidding. But seriously, turn the grill up to about medium high. Toss your asparagus in a mixing bowl with any kind of oil you like and any kind of seasoning you like…remember, sea salt is asparagus' best friend. A few suggestions; extra virgin olive oil and fresh rosemary, canola oil and orange juice and zest (or lemon or lime or all three if you like), the possibilities are endless. If you want a healthier version without all of the oil, simply wet the asparagus with water or citrus juice or red wine vinegar or whatever, just make sure to have a spray bottle of some kind of liquid next to the grill with you to spray the spears from time to time to keep them wet and prevent burning and over-charring.
Throw the spears on the grill…turning them every few minutes (spraying if not using oil) until they are done! It's that simple…although it may take a few tries for you to get it perfect, asparagus falls through the grate pretty easily and the "buds" can burn if not watched carefully enough. Serve these with anything in the world.
Third: Warm Asparagus Salad
Luxurious and simple, this recipe could easily be found as a dish in a high-end tapas bar, or as an amuse-buche in a French bistro. I am not the biggest fan of plain old steamed asparagus, but this one's a winner. Cut off the bottom of the spears and save for a later recipe, leaving only the best part of the tips, roughly the top 3 inches. Steam your asparagus until bright green and tender (asparagus should always be cooked "al-dente"). Toss the tips in a mixing bowl with raspberry vinegar, sea salt, fresh ground black pepper, finely diced roasted red pepper, minced shallot, and white truffle oil (the best part). Serve while still warm for the best results. Tastes great on a deck at dusk, with a nice chilled Riesling, and perhaps, some paper thin slices of prosciutto on the side.
Fourth: Chilled Asparagus Mint Soup
Yeah I know it sounds a little strange, but trust me on this one folks. Cut a few bunches of asparagus tips from their spears and set aside. Take all of your saved ends of asparagus spears and don't forget about the ones you saved from the past few days and weeks in the freezer and fridge and chop them into 1/2 inch pieces. Chop 2 shallots or so (these counts and measurements are all dependent on how much soup you're making). Take a large pot and fill it with enough water to cover the asparagus stalks and shallots by about 3 inches. Bring the water to a boil, blanch the asparagus tips only at this point, and immediately shock them (put them in a big bowl of ice water) and save for later. Throw all of your other asparagus parts and shallots into the water and let it boil for about 15 minutes…until the asparagus is nice and soft.
Remove the pot from the stove and placed 2 or 3 ladles full of our "asparagus stock" into a blender, add a small handful of mint leaves, and puree it as smooth as it will go. Pass the pureed stock through a fine mesh sieve into another container. Continue doing this until all of the stock is pureed. You don't have to chill this puree just yet. Clean out your soup pot, there's no need to use another one…who needs more dishes?
Melt a good amount of butter in the pot and whisk in an equal amount of flour to make a nice roux. You should have approximately 1/4 cup of roux for every 3 cups of puree. Once your roux is nice and well combined whisk in a bunch of white wine…as much as you like…the sweeter the wine the better. After you have incorporated all of the wine and the roux is nice and thick again, add some cream, about 1/2 pint for every quart of puree. Start ladling the puree into the roux, whisking all of the time to keep it nice and smooth until it is all used up. Season liberally with sea salt and white pepper. Add a nice big handful or two of a chiffonade of mint, chiffonade is just very thin ribbons of a leafy herb, and stir briefly. Taste it to make sure it doesn't need any more mint or salt or pepper, you can add some sugar if you would like it a bit sweeter, and immediatley transfer it to the flattest container or containers you have and throw it in the fridge to cool it quickly.
Once the soup is chilled you can do any number of things with it. Simple way; ladle it into chilled bowls, add a few of the blanched asparagus tips to the top and garnish with a sprig of mint (maybe throw a dollop of creme fraiche on there). You can put some pasteurized lump crabmeat at the bottom of the bowl and pour the soup over it if you like. You can remove the rind from a wheel of brie cheese and spoon some of the cheese into the soup. You can add any of the following; roasted red peppers, fresh chopped baby field greens, sun-dried tomatoes (reconstituted in water first), some nice hot fresh chilies, chopped pistachio and orange zest…or whatever you feel like putting in there…once again this is an extremely versatile recipe!
Well, that's it for now. I hope you try some of these, if not all of them. Enjoy them and experiment with them! Good asparagus is only around for maybe 6 weeks if you're lucky, so better start eating it now!
Source:
1. Asparagus Recipes – Allrecipes.com
2. How to stick with your diet when traveling
3. Asparagus Side Dish Recipes – Allrecipes.com

Image Credit
img2.timeinc.net
Pre: Recipes Hummus
Next: Recipes Latkes